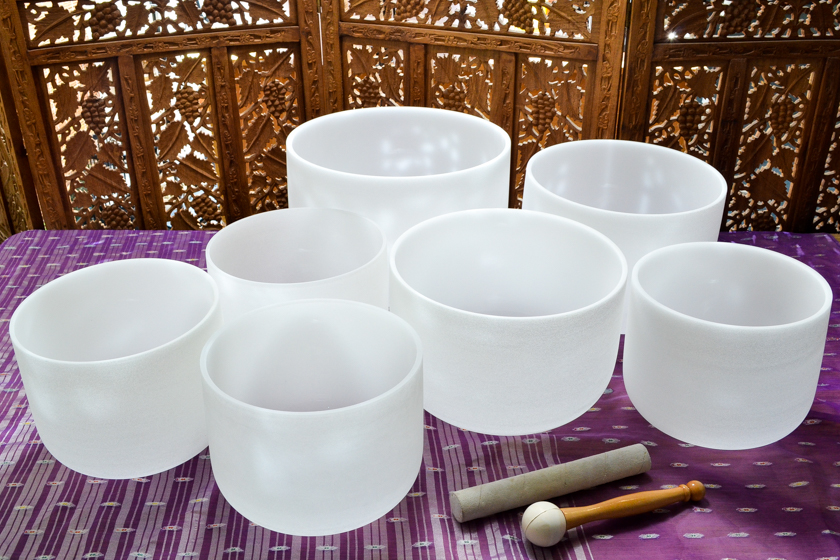 Sound Healing with Singing Bowls with Michele Porter Will
Monday, December 9, 2019
Enjoy an evening of crystal sound healing with Michele Porter Will as she plays from a variety of bowls bringing about peace, deep relaxation, rejuvenation, and healing. Crystal Sound bowls have a unique individualized life force energy and intelligence. We will go within and explore the vibrations of each bowl as they connect with each chakra, in order to release tension, stress, anxiety, insomnia and other concerns. We will use the crystal bowls to raise vibrational frequency as we call upon our Guides, Angels, Teachers, Ascended Masters and those who assist us in our journeys.
***NOTE: This is an experiential meetup. Please dress comfortably. We recommend bringing a yoga mat and/or blanket and pillow if you prefer to lie down during the sound healing. Chairs are also available.***
Sound healing is a powerful and influential healing used to create shifts within our brainwaves through the frequencies and rhythms of the sounds that the brainwaves can attune to. This shift in the brainwaves from our normal beta state (our normal waking consciousness) to the alpha state (relaxed consciousness) to the theta (meditative state) and sometimes even into the delta (sleep state) is responsible for our healing of blockages, emotional concerns, mental issues or dis-ease within the body. Using instruments of various tones and frequencies assists us in creating a state of health, wellbeing, and mindfulness, similar to regulating the breath during meditation. Sound healing and sound therapies help us to move through energetic blocks that can be located in the physical body or our subtle bodies, or both. When these shifts start to take place, our perspectives start to change. We begin to feel subtle differences in our beliefs about our wellness and our relationship with ourselves and others.
BIOGRAPHY
Certified in Sound Healing through the use of Crystal and Tibetan healing bowls in July 2018, Michele Porter Will is passionate about using her bowls for healing and has incorporated the use of various bowls and sound instruments into her healing practice. Michele, a native of Kansas now residing in Virginia with her husband, attended the University of Kansas earning a bachelors and master's degree in Social Work. Currently working to serve the homeless veteran population in the Virginia Commonwealth, Michele is also a Reiki Master healer and an Intuitive Energy healer who earned her credentials through EnergyMasters Institute. Michele was ordained as a Healing Minister through Rays of Healing Church in July 2018. Michele has a passion for learning and has been interested in using Essential Oils for therapeutic and healing purposes along with the Crystal sound Bowls. As she has continued learning the healing capacity of essential oils and crystals, Michele has also recently created a small business called, "In My Heart", where she sells her own line of products to include Lip Balms, Body Butters, Bath Scrubs, Candles, Custom Made Oil Blends and Sprays, and Reiki and Love-infused crystal and stone bracelets. Michele has been on a spiritual path over the last few years and has a passion for working to help others to recognize their fullest potential. Michele continues her quest to expand her own knowledge and skill of helping others to learn, grow and expand into their True Self.
Michele K Porter Will
(785) 979-4901
mporterwill@yahoo.com