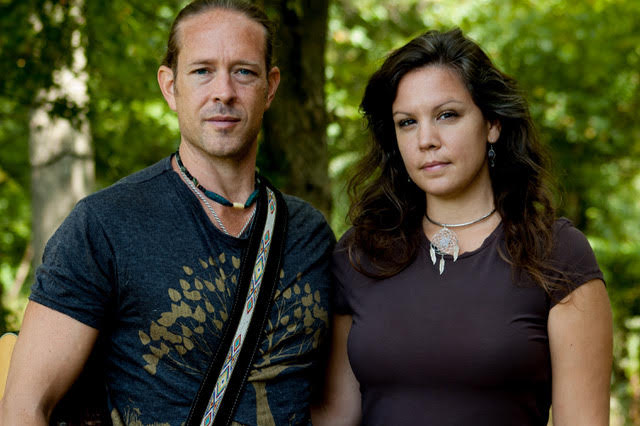 Monday, October 26, 2020
Crossing the Threshold
We are experiencing a time of momentous change and radical transformation. We can either cling to the shores of what we once knew or let go and allow the river to ferry us across the threshold. In order for something to be born, something must also die, or more aptly put, be transformed. Death in this sense can be viewed as something not to dread, not as something morbid and to be in fear of, but rather, as an amazing opportunity to come more fully into self-discovery of our unlimited potentiality and let go of what is holding us back. Transformation isn't always easy, but with the right understanding from our heart centered awareness, we can turn those turbulent waters into a river of peace and help to usher in a new way of being as we birth something new. This discussion will focus on some practical tips and insight on how we can navigate this journey to what lies on the other side. From there, award-winning musician sound healers, Jim and Ashley Cash of Woven Green will lead the group into a guided meditation and immersive sound bath experience to help clear out any blockages or stuck energy so that we can prepare the way for the crossing of the threshold to the new earth within.
Attendance includes a $5 OFF coupon for a Private Sound Healing Session with Woven Green.
BIOGRAPHY
Woven Green is the name of Jim and Ashley Cash, an award-winning singer songwriter husband and wife team with roots in the DC area, who weave their unique blend of pop, rock, folk, world, and new age music with the power and poetry of a modern sage. Having released several albums, four of which have been fully fan funded, their output has garnered multiple awards, most notably winning first prize in Relix Magazines's Jam off Competition. Their album Into Bloom has received stellar reviews, and has been described as, "thrilling, electrifying, dynamic, and inspirational", drawing comparisons to some of the greats, including Fleetwood Mac…recalling the best of the singer-songwriter tradition in unexpected beautiful ways." Songs from Into Bloom were recently added to a growing number of College and Independent radio stations across the US and Canada and have been licensed for use on major TV networks such as the Discovery Channel and TLC among others. Woven Green are currently touring nationally and internationally, dedicated to effecting positive change through their music. Their lives shows are as passionate, dynamic, and inspiring as their recorded productions, and offer a chance to experience the chemistry and charisma of this talented musical partnership.
Also sound and vibrational healers, Woven Green offers a multidimensional shamanic sound bath experience, using sound as an intentionally activated energetic tool to elevate and realign meditators to a higher and more harmonious frequency. For the 70-minute chakra Sound activation, attendees have the option of laying down or sitting upright, as the multi-instrumentalist sound healer couple weaves the resonant frequencies of each corresponding chakra in root to crown sequence, allowing for energetic clearing and harmonizing of the complete energy system, resulting in a vibratory state that restores resonance in mind, body, and spirit. Woven Green Soundscapes are designed to guide listeners into theta brain wave states, which are proven to help reduce stress, awaken intuition, enhance creativity, and promote an overall expanded state of well-being.
Woven Green's recorded music is available on iTunes, Spotify, YouTube, and other digital music outlets including their website wovengreenmusic.com.
———————————————————————————–
JOIN:
Topic: Crossing the Threshold, presented by Woven Green
Time: Oct 26, 2020 07:30 PM Eastern Time (US and Canada)
Join Zoom Meeting
https://us02web.zoom.us/j/83497168840?pwd=S25zMlJMRTdOdGFPTytDeXEwWG5xdz09
Meeting ID: 834 9716 8840
Passcode: 809938
One tap mobile
+13017158592,,83497168840#,,,,,,0#,,809938# US (Germantown)
+13126266799,,83497168840#,,,,,,0#,,809938# US (Chicago)
Dial by your location
+1 301 715 8592 US (Germantown)
+1 312 626 6799 US (Chicago)
+1 929 205 6099 US (New York)
+1 669 900 6833 US (San Jose)
+1 253 215 8782 US (Tacoma)
+1 346 248 7799 US (Houston)
Meeting ID: 834 9716 8840
Passcode: 809938
Find your local number: https://us02web.zoom.us/u/kcNGd3xilD